Business processes
Our concept
Business processes are present in every company, regardless of the scale of the enterprise and the industry.
For a company to function must sell their products or services. But that the client received the ordered products or someone made for the customer expected service must be properly structured sales sector and its support of the implementation of the order. In many companies there is a perception that a sale is the most important and all energy is addressed to it (more vendors, more branches, more range, new sales channels, etc), and the delivery of the products or services it becomes sadly secondary. As a consequence, the company is expanding, but bear large costs of sale and it has a problem with mismatched development to sales volume. This is because business process management in your company should work so that it is possible to maintain optimum costs in the business and to achieve efficiencies in larger scale operations.
Poor organization, mirroring the conduct, manual handling of too many exceptions, "papierologia" constitute a source of unnecessary costs, which reduce the efficiency of the company.
In order to improve the operation of the company, we must first of all identify all implemented in the company business processes and auxiliary, examine their process, measure steps, determine the start and end of support for each of them, what should, what information should be given at the entrance, who is responsible for the correct handling, etc. All of these depending on the permit for the construction of maps and locations to optimize based on the results of the measurements.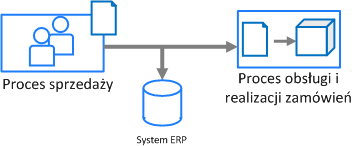 The contract document shall designate a smooth transition between the boundary of the sale process and the process of implementation of the contract.
Why the company should identify their business processes?
Although the each order is different, and every customer is different, the ordering should be standardized
It is impossible to make effective organizational changes where it is not possible to accurately determine directions
The company sees the need to reduce costs, but there is no complete picture of that business processes implement hot aisles
The company plans to deploy CRM solutions, or ERP, but without the order of actions only set duplicates the chaos and mess in the new system
Each computer system to expedite the workflow needs of the documentation of the current status and the State of destination, in order to precisely define the role of the system in the course of activities

How to start a business process management in your company?
To analyze and measure the use of our authoring solution that allows in addition to dry analysis of measure and support the implementation process. What's more, obtained data from measuring precisely indicate that require optimization and allow you to focus on those activities that will bring the greatest economic effect in the shortest span of time.
We suggest and recommend that any organisational changes, including the implementation of the new it solutions covering the entire enterprise, start with the analysis and measurement of business processes in the company. These are two key steps in optimizing and improving management. No sound-what work in the company, how much energy will cost the company, etc. -any amendment will be superficial.
Our path to the proceedings
The identification of the
Remeasurement

Each process has a beginning and an end, its owner, something is used, it is also linked to other processes, therefore, focus on a single process in the company do not give a complete picture of how the company operates
What we can offer in the context of business process management:
It is worth have external analysis of your company-from the outside it is better to perceive the unusual (bad) business processes and solutions, and applications are more objective
We are aware of limitations, which is why we offer real solutions
We have the methodology of measurement that indicates the destination for in-depth analysis is not acting at random!
We combine knowledge with real managerial experience in conducting and managing business-the pursuit of excellence is not an end in itself – we think about the cost and feasibility of enforcement of certain procedures
Our experience allows us to quickly capture the specificities of each company, even the most unusual. We work really effectively
We recommend automation through information systems. This is due to our personal experience of free software companies
We offer support from A to Z. "we don't want to portray only a vision